Cash for Scrap Cars in Kitchener and Waterloo
Did you know that there is a Cash for Scrap Cars program in Kitchener and Waterloo, or that prices for scrap metal are at historic highs? This means that now is a great time to trade in your old vehicle for cash!
At Logel's Auto Parts in Kitchener, we take your scrap cars, junk cars, post-accident cars, and other non-working or low-market-value cars and turn them into immediate cash. The program puts cash in your pocket in exchange for taking your old or unwanted car off your hands!
In addition, recycling your ride is a responsible environmental decision because it helps to prevent dangerous toxins from being released into the ground and water, and it keeps your car out of the landfill. By reducing the need for new parts to be manufactured, you'll be helping to preserve scarce natural resources and cutting down on pollution.
Give us a call for an immediate quote and we'll set up a time for you to bring your car in, or for us to pick it up. When you arrive with your car, you'll receive the exact amount that we've promised.
Ready to sell your vehicle? Click here!
What Is The Cash for Scrap Cars Program?
Cash for Scrap Cars, also known as 'Cash for Clunkers' or 'Recycle your Ride', is an eco-friendly auto recycling program that keeps cars out of our landfills and recycles their scrap metal or used parts. Here's how this very easy process works:
Step 1: Call Logel's
Give us a call at the shop and let us know you're interested in our Cash for Scrap Cars program in Kitchener and Waterloo.
Step 2: Request A Quote
On that same phone call, we'll give you a no-muss, no-fuss quote for your car. This is a haggle-free process as we will multiply the weight of your vehicle (from the book) with the current price of scrap metal, and voilà. This price is determined strictly by math — which means you'll get a fair and honest price every time.
Step 3: Bring Us Your Car
Next, bring us your unwanted car. We'll fill out the paperwork for you, process the car, and put cash in your hand. We can also come and pick up your car if it's not safe to drive, for an additional charge.
Step 4: Spend Your Money
The only step left is to plan how you're going to spend your money. IDEA: We work with a charity that would be more than happy to receive the cash from your scrap car as a donation!
Give us a call! Our Cash for Scrap Cars program makes the process easy.
Frequently Asked Questions About Scrap Cars
What Should I Do With My Scrap Car?
Old cars can be a nuisance to have around — especially if they don't run anymore or cost more in insurance than they're worth. If you've got a scrap car, or several cars, sitting around and you've been scratching your head about what to do with them, then you've come to the right place.
At Logel's Auto Parts, we are your best source for auto recycling and selling used car parts and scrap cars in Kitchener, Waterloo, Cambridge, and Guelph. We can help you recycle your ride and get it off your property.
When you recycle your ride, there are two options:
Sell Your Used Car Parts Individually
If your car is relatively new and is a reasonably popular model, then there may be some value for individual parts. You can tell if you have a 'reasonably popular' model if you commonly see your model of car sharing the road with you. Less popular cars can also have valuable parts beneath the hood, but they will typically need to be a specific model or collector's car.
Unfortunately, selling your car for parts is a manually-intensive and time-consuming process. It requires you to strip each individual part out of your car, clean it thoroughly, and then find a buyer — whether it be an auto shop or online through Craigslist, Kijiji, or eBay. Most people don't have the mechanical knowledge or time to do it themselves.
Sell Your Whole Car for Scrap
If your car is in rough condition and you suspect that you wouldn't be able to sell its parts, then you should probably sell the entire vehicle for scrap. At Logel's, we will give you an exact quote for how much your car is worth by calculating its worth based on the weight of the metal in the vehicle. If you give us a call, our team will be able to provide you with the exact amount that you'll get for your car.
If you're in the Kitchener, Waterloo, Guelph, or Cambridge area, then we are your go-to source for selling your scrap car. Our decades of experience means that you'll experience a smooth transaction from start to finish — we'll even do the paperwork for you. All it takes to sell your car for scrap with us is a phone call and a short chat.
Will Logel's Come Pick Up My Vehicle?
We will! Logel's has a full-time tow truck driver on staff, year-round. We also work closely with local tow truck companies to make sure that we're always in a position to pick up cars quickly.
How Do I Get Paid?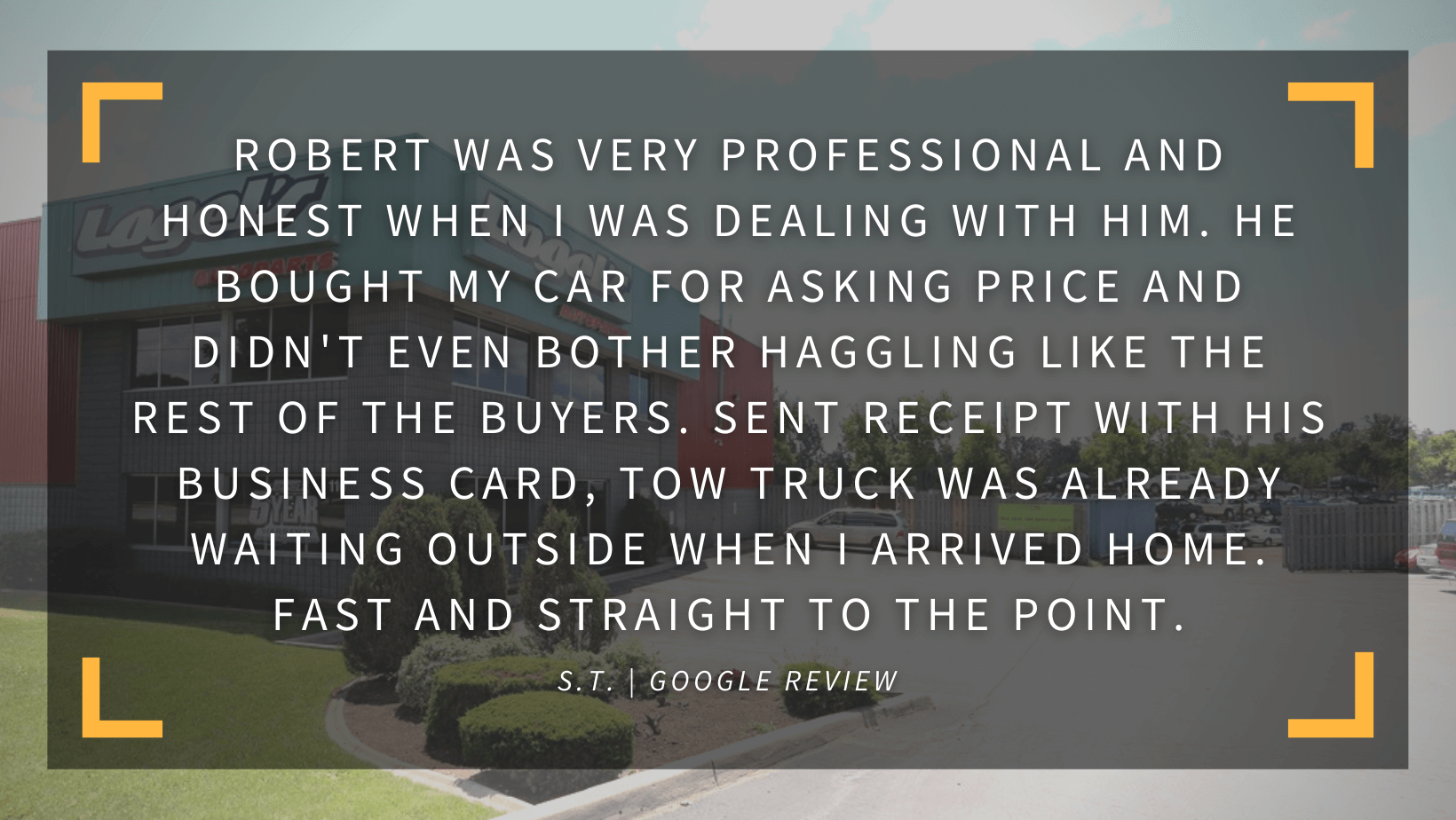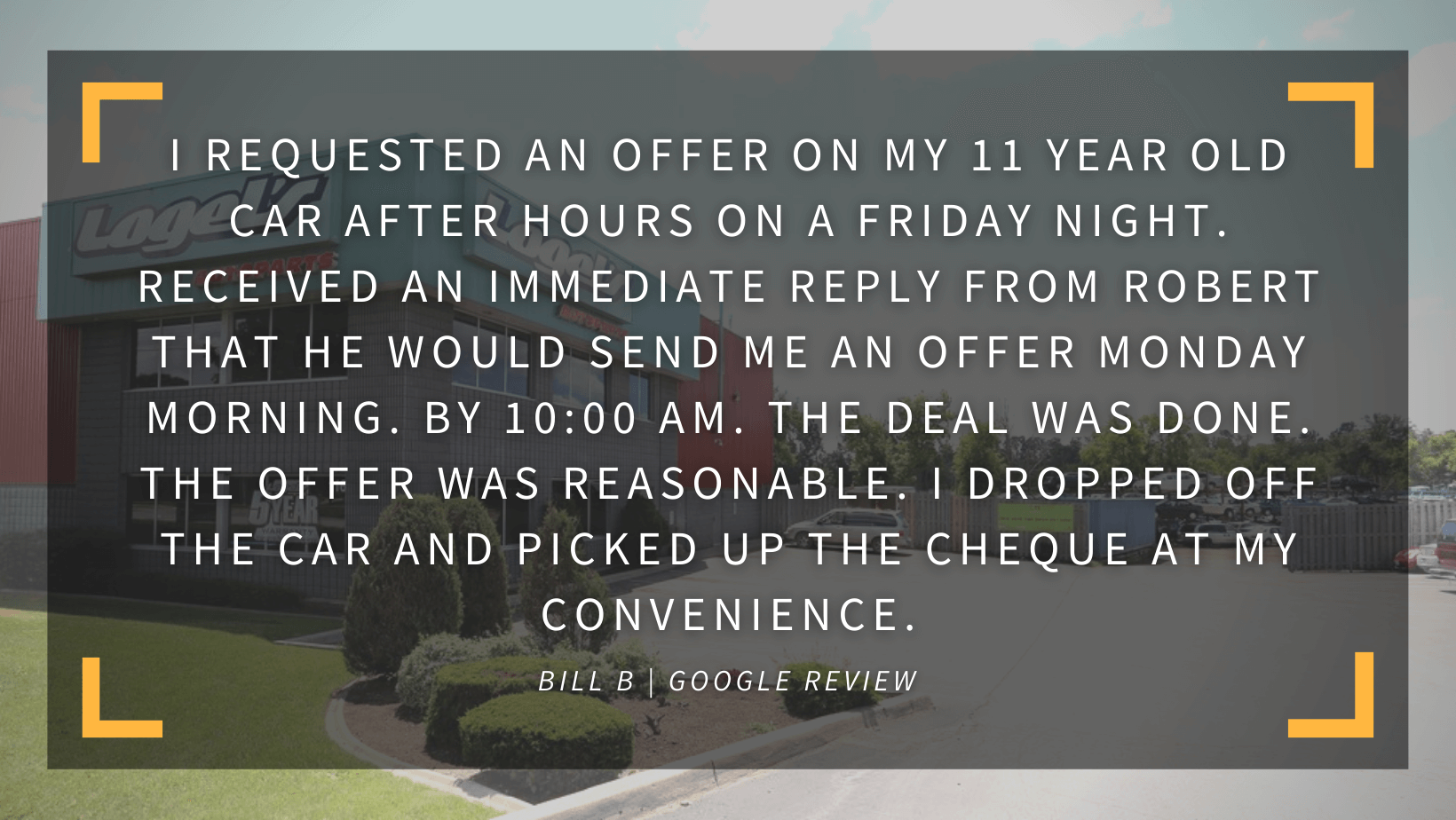 If we're picking up your vehicle, our driver will bring payment along with the bill of sale. All you have to do is be there to take the cheque and sign some papers when we arrive. We'll take care of everything!
If you're dropping off your vehicle, you will get paid when it arrives.
How Much Money Can I Make From My Scrap Car?
There are a number of factors to consider when assigning a value to your scrap car. If you're looking for us to provide a hard number, it will be fastest for you to give us a call. Our team will be able to give you a quote based on the model of your car.
Most cars will fall into two categories:
Total Scrap Cars
If your car is over 20 years old, no longer runs, has no Blue Book value, or would cost more to repair than it is worth, it will likely be turned into scrap, and the steel and other materials will be recycled.
These types of cars are generally assigned a value based on their scale weight and the current price of materials. Our team is able to provide a price over-the-phone based on our database of vehicle curb weights.
Scrap For Parts
If your car still has parts that are worth money, then it may be valuable to sell the parts individually. This would likely get you more money than weighing your car and getting the per-pound value. To sell your used car parts, you can do it yourself, piece by piece, using Craigslist, Kijiji, or eBay. Alternatively, you can work with a company like Logel's.
This decision generally comes down to time constraints. If you have the time and desire to list each part individually, wait for each one to sell, and then pack them up and ship them out, go for it. Depending on the state of the parts, it may or may not be worth trying to sell the parts alone.
If you're in doubt about whether to sell your car for scrap or for parts, bring it to Logel's. We're born-and-raised car guys. We don't mess around or beat around the bush — we'll tell you which one is your best option. Get in touch with our team today.